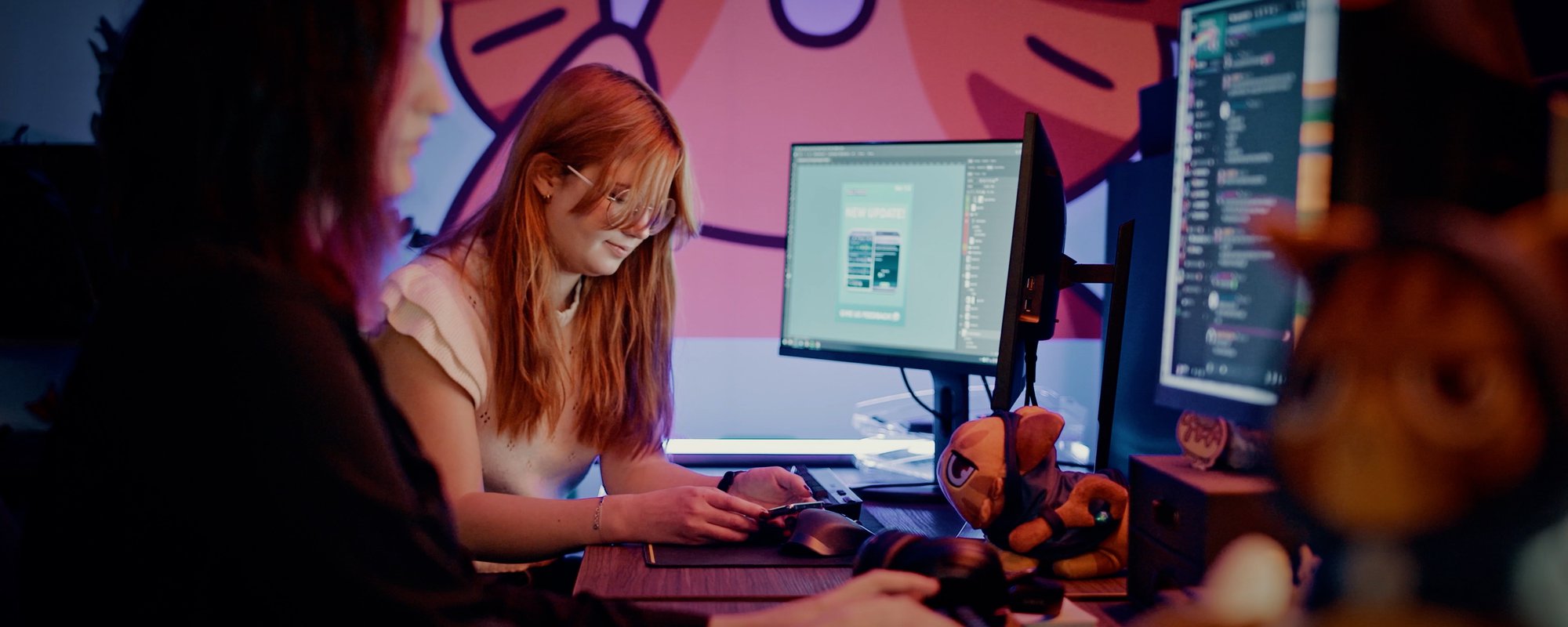 So, you have an idea?
That's great!
An idea can be the beginning of an exciting journey. We help you along the way,
with 20 years of experience in developing business ideas, strengthening entrepreneurship
and building attractive companies.
We believe in you - if you believe in your idea.
Apply for one of our startup programs, and we'll start there!
Science Park Skövde Startup
IT and tech are growing sectors in Sweden - and we know that there are many ideas out there that can be turned into successful companies!

Do you have an idea? For example, a technical solution, a manufacturing method or a new solution for resource efficiency, automation or digitization.

Get in touch - or apply directly to the startup program!
Sweden Game Startup
It's not a coincedence that the world is talking about the Swedish Gaming Wonder. In fact, Sweden is one of the world's leading gaming nation. A lot of the successes have started in our startup program at Sweden Game Startup, such as Iron Gate Studio with Valheim, Coffee Stain Studios with Goat Simulator and PocApp Studios with Castle Cats.
Since the program started, we have helped more than 100 game companies with business development. Needless to say, we have a long history of supporting teams to develop their ideir idea into a sustainable game company.
You can join our startup program from all over Sweden. If you don't live in Skövde or Gothenburg, where we offer office space, you can join the program online.
Key figures
+ 250
startups have completed our program
48
startups are currently part of the program
+ 34
million in venture capital - 2022
About the startup program
We have a long and broad experience of helping entrepreneurs from idea to established company. Since the start, we have helped over 250 companies to develop and grow. The key is a proven process, professional business coaches and of course - good ideas from the contractors.

We love all kinds of ideas, but we are very interested in those who are involved in solving major societal challenges.

Our startup programs follow the same approach and are based on two phases - one with a focus on developing your idea and the other on developing your company. The programs are permeated by sustainable business and the global sustainability goals.
Why should I apply?
Business development
You're the expert of your own idea. We are here to help you with the business side of things such as sharpen your pitch to investors and publishers, and identify possible opportunities going forward. Long story short, together we develop your idea into a company.
Important contacts and a broad community
We offer an ecosystem with contacts and actors - in business, academia and the public sector. Crucial doors can be opened, for you, and your company's development. Through our startup programs, you also get access to our broad community that gives you both a context and the opportunity for valuable contacts and knowledge development.
Network with capital
Through our large network of contacts and a number of partners, your company can get help with financing solutions in different phases, regardless of whether it is a development or research project, or support for growth. For good ideas from driven entrepreneurs, there is always access to capital.
Our startup programs are run completely without profit.
I don't know any other place or setting like this. I wouldn't have started the company if it weren't for this startup program.
- Dilaram Massimova, CEO of PocApp Studios
Sweden Game Startup gave us a chance to pursue our dream. Now millions of people across the world enjoy our games.
- Rickard Frisegård, CEO of Stunlock Studios
Questions?
Don't hesitate to contact our business coaches for more information.